Innovating and thriving with technology
Whether it's feeding, fueling, healing, or moving, Calgary is solving the world's greatest challenges through the creation and adoption of transformative technologies. From software to hardware and services, digital transformation (DX) is quickly becoming the largest driver of new solutions and technology investments among Calgary businesses. Calgary companies will lead the $20 billion spend on digital DX in Alberta from 2021 to 2024. Given its concentration of headquarters and industrial sector base, Calgary is at the heart of the industrial digital transformation and home to many made-in-Calgary success stories.
Digital Transformation
Calgary is a city primed and ready to take on global challenges - we're already doing it. A city with budding entrepreneurs and future-thinking problem solvers. A city that's leading the $20 billion spend on digital transformation in Alberta through 2024. Digitalization is a fundamental driver in Canada's economic transformation, and it is Calgary businesses that are breaking down traditional boundaries and shaping our future with new ways of creating, interacting, and working.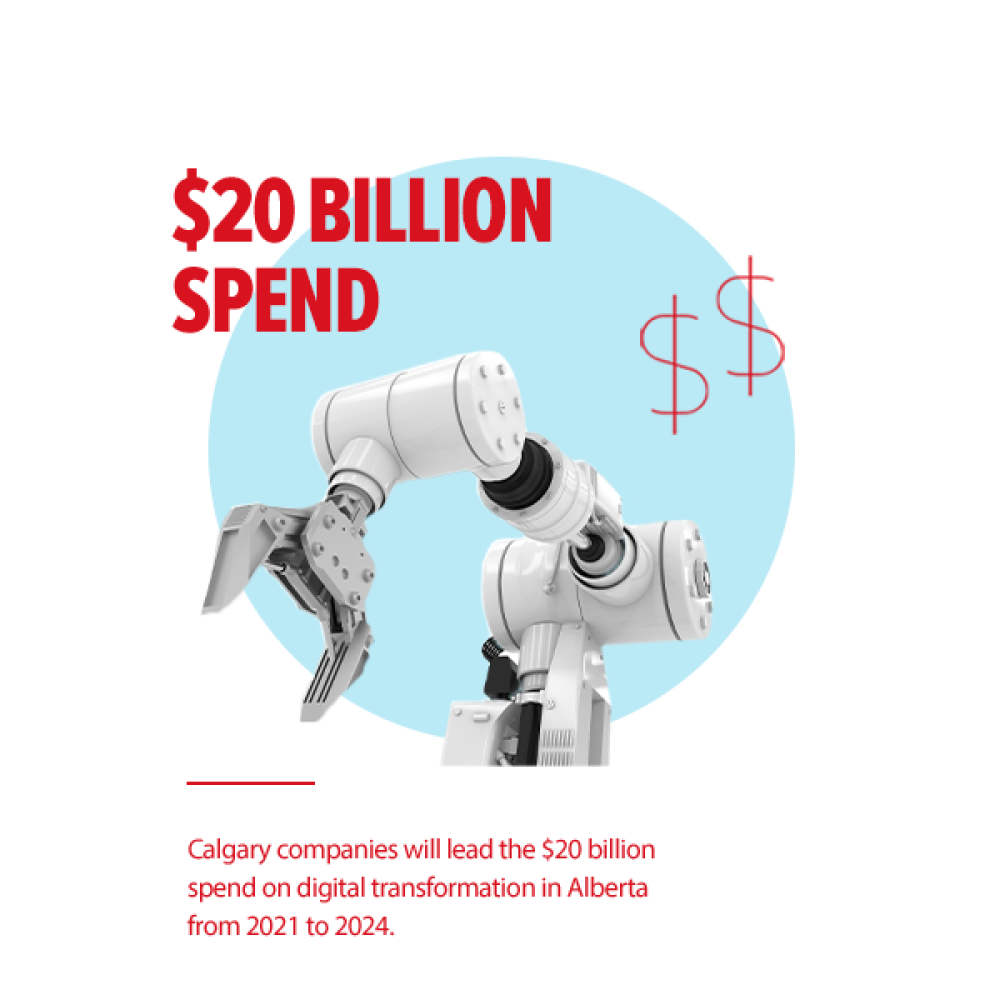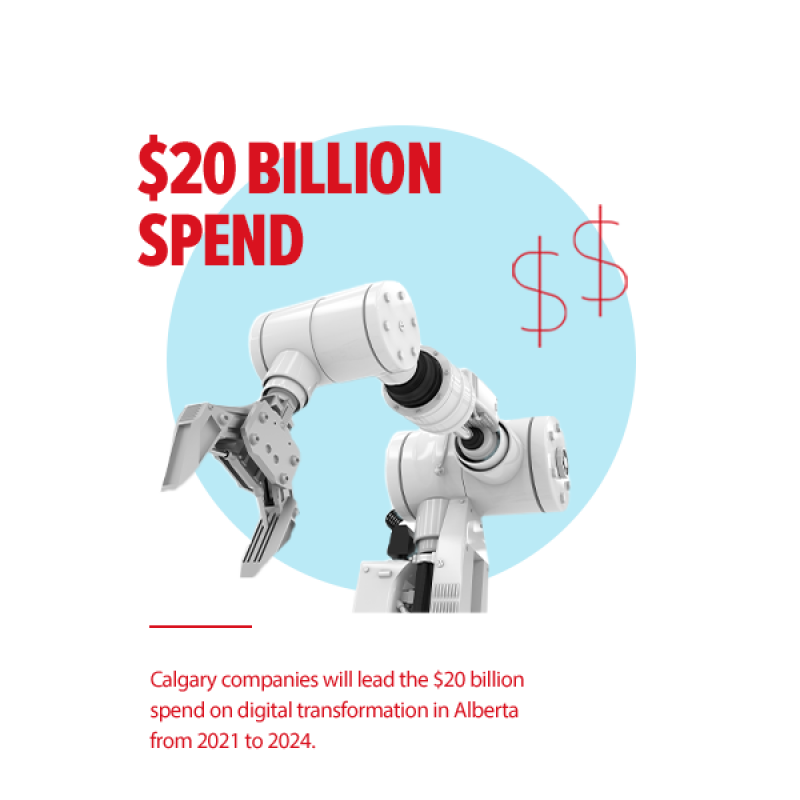 A New Course for the Future
The Southern Alberta Institute of Technology (SAIT) received a $30 million donation to help establish a new school that will provide the latest in digital education for students, enabling the institution to advance change through technology. The new school will set a new course for the future positioning of SAIT as a leader in digital transformation and education.
Accelerating Digital Transformation
Suncor announced a multi-year strategic alliance with Microsoft Canada, tapping into the full range of Microsoft's cloud solutions to empower a connected and collaborative workforce, upgrade data centres and increase analytics capabilities.
Learn More
Western Canada's Secure Digital Transformation
Cisco announced a $15 million investment to support three initiatives in Western Canada, focusing on job creation and skills development. Cisco has doubled its R&D cybersecurity resources since 2017 and established a new cybersecurity office. As part of the announcement Cisco is also supporting NPower and YYC Net Lab to provide training and development support to underrepresented populations.
A Catalyst for Growth
The Finger Food Advanced Technology Centre in Calgary is a facility for global innovation; a state-of-the-art space dedicated to disrupting traditional thinking, fostering user-centric and innovative ideas and learning opportunities. The Centre is set to provide 200 full time jobs in Calgary by 2023 for highly skilled design, software development and management professionals.
5G and
connectivity
See why Calgary's established leadership in 5G preparedness, overall connectivity and efficient regulatory environment, position the city to be a centre for 5G development and application.
Get to know Calgary's tech and
innovation ecosystem
Calgary is emulating the best and brightest worldwide on how regional innovation ecosystems grow and are sustained. Several organizations exist to support the growth and success of the ecosystem in Calgary.
Tech accelerators &
incubators
Calgary is an opportunity-rich city.
Our interactive investment map highlights the foreign direct investment (FDI) that has taken place in the Calgary area over the past 6 years.
Explore Investment in Calgary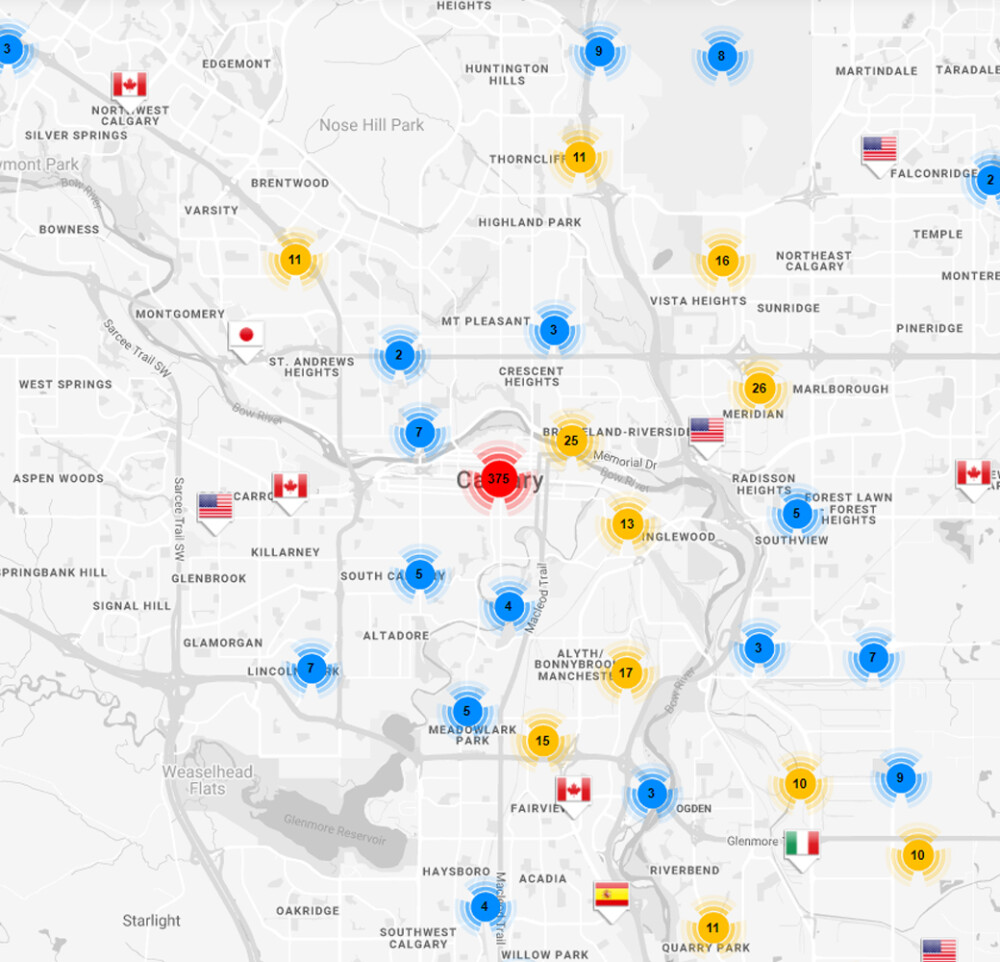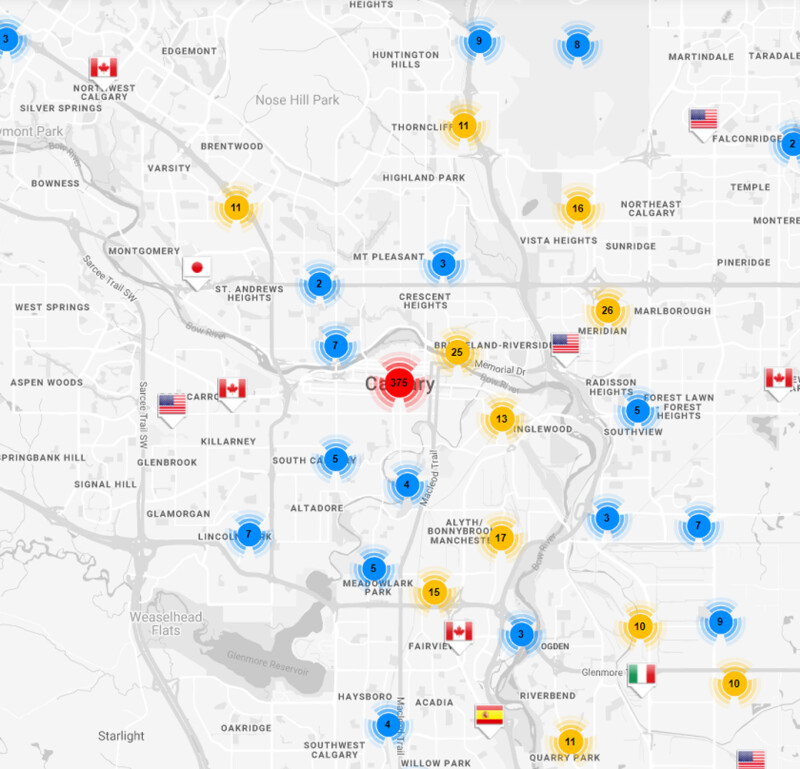 Creating the next generation
Calgary's post-secondary schools and other leaders in the community are creating the tech-savvy talent for the future.
Calgary is a living lab
Calgary's Living Lab offers businesses and researchers access to public spaces, transportation corridors, dark fibre / LoRaWAN networks and other City-owned assets to test, validate and showcase their technological innovation in a real-life environment. Unmanned and autonomous systems, augmented reality and virtual reality are just a few examples of some successful labs that have been implemented. The Living Lab is helping Calgary become a Smart City by using innovation, data and connected technology to improve the quality of life of Calgarians.
View Website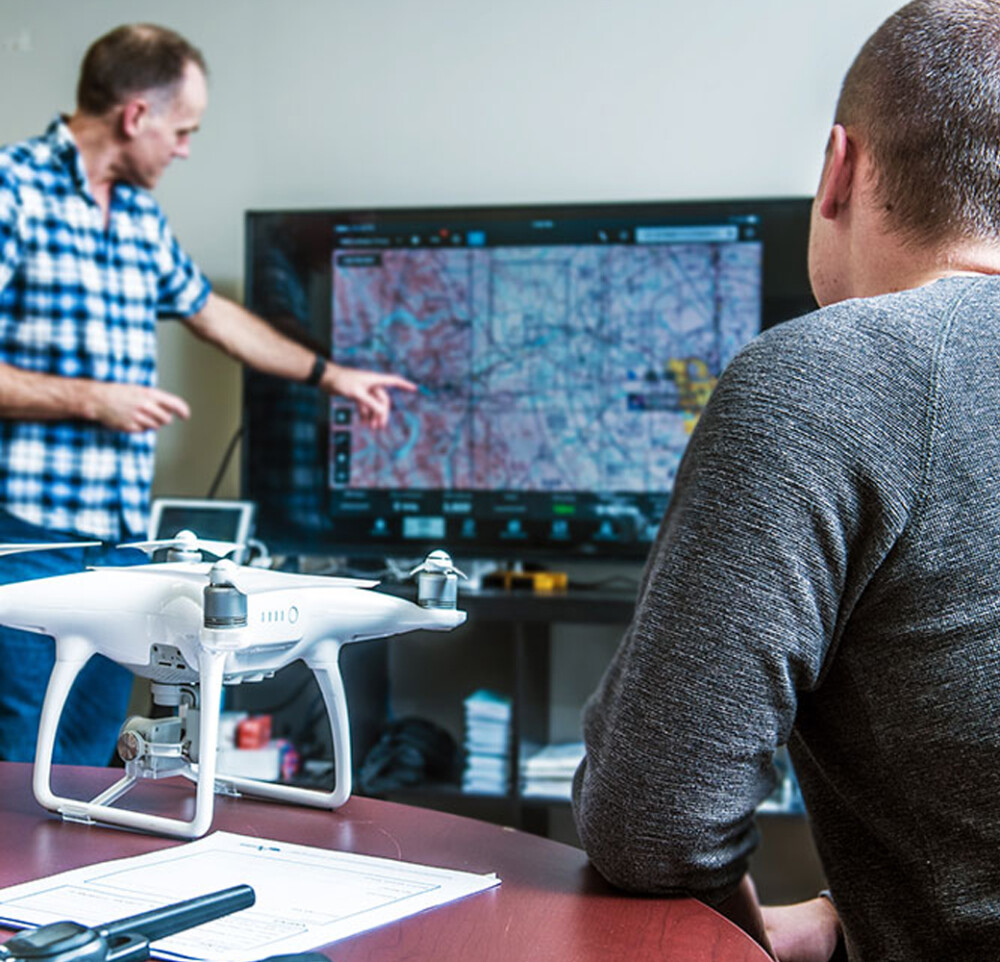 Related links
Start Alberta database
Start Alberta is the digital platform and gathering space for Alberta's tech community. Companies, founders, investors, students and anyone interested in our digital economy can explore our community and ecosystem through Start Alberta.
Startup Calgary events
See what events in the startup community could align with your business.
Startup Visa Program
Start-up Visa Program. Find out how to immigrate to Canada by starting a business and creating jobs, or support innovative entrepreneurs.
The A100
A100 members expand networks, connect people and share experiences to help drive lasting diversification for Alberta's economy.
Calgary Innovation Coalition
The Calgary Innovation Coalition (CIC) is a group of organizations in the Calgary region that support innovation-driven entrepreneurs, startups, and enterprises.
Startup Genome Calgary
Startup Genome is the world-leading innovation policy advisory and research firm, having advised the ecosystem development strategy and action plans for more than 40 governments in the last year.
Alberta Tech Deal Flow Study
The Alberta Tech Deal Flow Study is currently the most comprehensive view of the tech startups in Alberta. This is made possible by the many submissions and support from the tech companies, supporting organizations and investors who are actively involved in Alberta's tech sector.
Funding resources
Hiring Grants
Canada-Alberta Job Grant: The Canada-Alberta Job Grant is a training program where an employer applies on behalf of their present or future employees for eligible training costs.
Mitacs: Mitacs is a nonprofit national research organization that, in partnerships with Canadian academia, private industry and government, operates research and training programs in fields related to industrial and social innovation.
Venture for Canada: Venture for Canada is a national charity that links interns and recent grads to paid opportunities at Canadian startups and small businesses.
Early Stage Funding
Valhalla Private Capital: Valhalla Private Capital is marking the beginning of two new ventures that will amplify its work in helping companies thrive across Canada and internationally.
Accelerate Fund: Accelerate Fund supports the growth of early-stage Alberta technology companies with a venture capital fund that matches angel investment. We are currently seeking qualified companies for the $15-million Accelerate Fund III.
Sprout Fund: The Sprout Fund is a non-profit organization dedicated to funding various programs designed to increase civic engagement in Pittsburgh, Pennsylvania. Sprout-funded murals were named the "Best Public Art" by the Pittsburgh City Paper in 2006.
Harvest Builders: Harvest is a growth platform and venture studio that helps launch and scale startups into globally competitive companies.
Venture Capital Association of Alberta: Alberta's primary industry association for venture capital, private equity, angel investors and others interested in furthering the industry in Alberta.
Alberta Enterprise Corp: Alberta Enterprise was created by the Government of Alberta in 2008, and have since connected Alberta inventors, innovators and entrepreneurs to money, markets and mentors – by fostering a thriving venture capital (VC) industry in our province. They manage a fund which, via their venture capital partners, invests into technology and innovation companies.
Relay Ventures: Relay Ventures is an early-stage venture capital fund focused on industries with the potential for growth, fuelled by the rapid adoption of technology.
Panache Ventures: Panache Ventures is Canada's most active seed stage venture capital fund and the only national pre-seed platform. The firm is led by a team of experienced operators, with a strong angel investor track record, years of institutional VC experience and a strong network in Canada, in Silicon Valley and worldwide. The fund has a founders-first philosophy, a commitment to diversity and strategically co-invests with smart angel investors and seed stage funds.
Builders VC: Helping founders modernize antiquated industries.
McRock Capital: Since its inception in 2012, McRock has been widely recognized as the first investment firm focused exclusively on the Industrial IoT.
Yaletown Partners: Yaletown invests in software, data and device technologies disrupting and modernizing traditional industries, services, real estate, and infrastructure. Their goal is to create a true foundation for climate resilient growth while delivering real value today.
Thin Air Labs: Thin Air Labs is an ecosystem studio igniting venture growth for greater human impact. We invest in very early-stage innovation through our venture arm, we help ventures succeed with our impact services team and we help nurture the innovation ecosystem through our involvement and influence with community builders and critical ecosystem partners
Funding Resources
NACO (Canada regional office in Calgary): Over 20 years, the National Angel Capital Organization NACO has emerged as the bedrock of Canada's entrepreneurial and innovation economy.
The51:
By uniting Canada's untapped women's wealth, The51 is creating a new critical mass of women investors, making Canada the centre for women-powered capital. With 30% of Alberta's tech start-ups founded or co-founded by women, The51's home province is well on its way to achieving this goal; however, with women-founded startups only receiving 2.3% of venture capital available world-wide, The51's vision spans globally.
AngelBot: AngelBot asks the tough questions and lets you know if you are ready for real thing
Innovation Canada Tool: Find the right programs and services, whether you're starting out or scaling up.
VCAA: Alberta's primary industry association for venture capital, private equity, angel investors and others interested in furthering the industry in Alberta.
Thin Air Labs: Thin Air Labs is an ecosystem studio igniting venture growth for greater human impact. We invest in very early-stage innovation through our venture arm, we help ventures succeed with our impact services team and we help nurture the innovation ecosystem through our involvement and influence with community builders and critical ecosystem partners
Want to learn more? Get in touch
Contact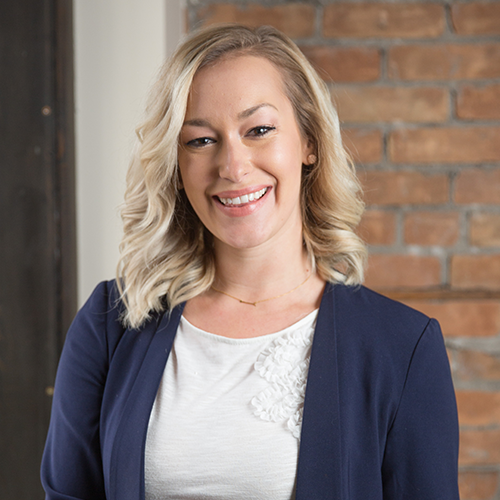 Chelsea Hallick
Business Development Manager, Enterprise Technology